Shuttering the agency and cutting funds for low-income housing remind experts of Reagan's deep spending cuts that 'ushered in a new age of homelessness'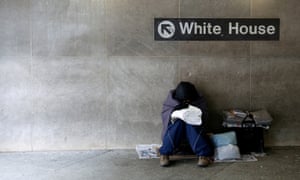 While much of the attention given to Donald Trump's budget proposal has focused on dramatic cuts at the Environmental Protection Agency and the state department, amid the many cuts in the plan is the elimination of the US Interagency Council on Homelessness (Usich).
In addition, Trump's budget would cut billions of dollars of funding for the Department of Housing and Urban Development, which helps provide low-income housing.
Diane Yentel, president of the National Low Income Housing Coalition, warned in a statement that the proposal contained some of the deepest housing cuts since "President Reagan dramatically reduced funding in the early 1980s. Reagan's deep spending cuts ushered in a new age of homelessness."
In an interview, she said the reductions might result in 200,000 low-income people no longer receiving rental assistance, putting them at risk of losing the roofs over their heads. About 550,000 people were experiencing homelessness on one night in 2016.
Source: Entire homelessness agency could be eliminated by Trump's budget cuts | Society | The Guardian